We provide a full, end-to-end tour bus service.
About Us
Tour Bus experts
Founded in 2000, MM Band Services has a strong reputation in the industry, and an excellent track record in successfully supporting some of the world's leading artists with luxury transport for UK and European tours, festivals and events of all sizes.

With offices in London and Yorkshire and excellent links to Scandinavia and mainland Europe, we offer a friendly, knowledgeable and professional service, with reliable, value for money packages.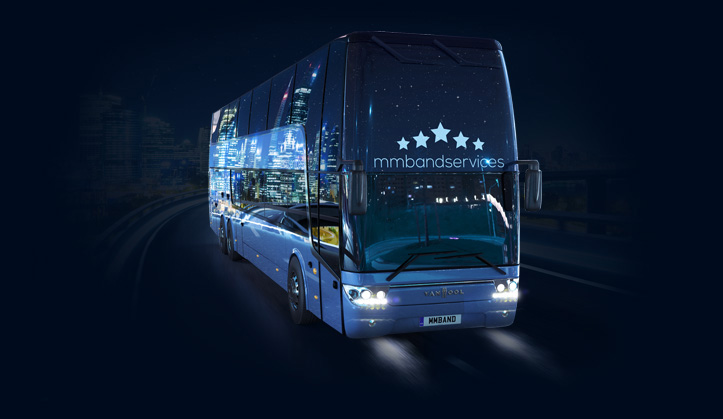 Quality Interiors
The quality of our band tour buses is second to none. Based on the world's finest sleeper coaches, with fully bespoke, luxury interiors designed and manufactured by experienced craftsmen, they're designed to ensure that everyone travels in comfort, and arrives at every venue refreshed and ready to go.
Experienced Drivers
All our drivers are friendly, English speaking professionals with perfect records, and extensive experience driving artists on UK and European tours. Reliable, safe and thoroughly vetted, you can trust our teams to be professional, discreet and honest.
Premium interior features include a fully equipped kitchen, modern bathroom with fresh water toilet, luxurious lounge areas with generously padded seating, extensive storage, and comfortable oversize bunks with high quality bedding.
The comprehensive entertainment system includes widescreen HD TVs, high quality surround sound systems and next generation games consoles, with Wi-Fi available on request.
Unrivelled Experience
MM Band Services has extensive experience working with some of the world's leading touring artists and bands, including Foo Fighters, Red Hot Chili Peppers, Mumford & Sons, Shakira and Wiz Khalifa, to name just a handful.

We understand exactly what it is musicians, management and crew require from a touring partner, and specialise in supporting those embarking on their first UK or European tour.
Service and Support
We're here to make sure your next tour runs as smoothly as possible. Going out of our way to make things easy, we take control of the logistics and transport, so you can concentrate on the 1001 other jobs associated with running a successful tour.
All-inclusive Pricing
With clear, fully transparent pricing, you'll benefit from our fully costed, personalised quotations. Everything is included in the price we quote, and you'll never be surprised with added extras – so you can get a full handle on the figures before you commit, and manage your tour budget accordingly.
We don't compete on price – we provide a luxury touring service, and real value for money.
For additional information about any aspect of MM Band Services and our band tour buses, contact our team today.